Meet the newest Steelcase brands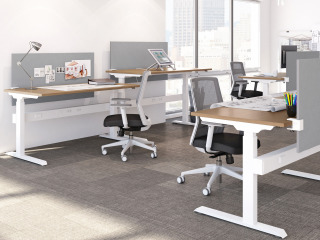 AMQ
AMQ offers flexible furniture solutions that support open plan design ideas and ship in just 5 days.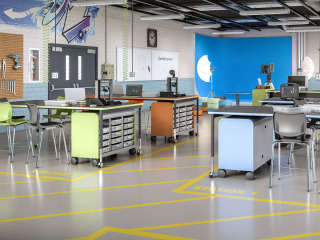 Smith System
Smith System believes in spaces that inspire learning and provides smart, flexible, durable furniture for the unique needs of the K-12 market.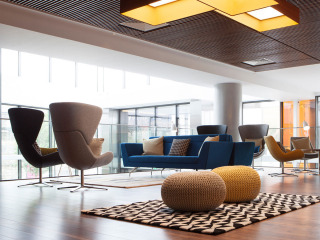 Orangebox
Orangebox offers contemporary furniture for the changing workplace, with a focus on fostering collaboration, privacy and commercial-grade performance.
Our Steelcase Brand Partners
workspace interiors works with over 100 vendors, and as you know, not all vendors and products are equal in quality and performance. We strive to lead with products and vendors that meet our strict standards for performance excellence and customer-focused solutions.  We require our vendors to be responsive, provide a quality product, meet delivery dates and do what they say they will do. In order for workspace interiors to meet the high standards our customers expect, we must have vendors that are equally dedicated.
This is why our partnership with Steelcase is so strong – they share our core values and standards in performance excellence, and provide our customers with quality products and unmatched research + insights into how we work today in the ever-changing marketplace. Steelcase, a global company, is the largest office furniture corporation in the world. 
workspace interiors is proud to be a Steelcase dealership as well as a third-time recipient (2012, 2013, 2016) of the prestigious Steelcase North American Platinum Partner award.
Steelcase
visit steelcase
Always Looking Forward
Steelcase helps leading organizations create places that unlock the promise of their people – places that inspire people to bring purpose to life. This is who we are. It's also what we do.
105 YEARS OF STEELCASE
For over 105 years, Steelcase Inc. has helped create great experiences for the world's leading organizations, across industries. Steelcase offers a comprehensive portfolio of architecture, furniture and technology products and services designed to unlock human promise and support social, economic and environmental sustainability.
We are globally accessible through a network of channels, including over 800 dealer locations. Steelcase is a global, industry-leading and publicly traded company with fiscal 2017 revenue of $3.0 billion.

We demonstrate all this through our family of brands – including Steelcase, Coalesse, Designtex, PolyVision and turnstone.
visit steelcase
Coalesse
visit coalesse
COALESSE: FURNITURE FOR THE MODERN WORKSPACE
Coalesse was born from a passionate belief that great spaces inspire great work. We envision workplaces around the world that build better social connections and empower creative collaboration, while caring for your focus and rejuvenation throughout each day. We instill spaces with a natural warmth and soul—destinations, both indoors and out, that enliven your wellbeing and always welcome your return.
visit coalesse
Turnstone
visit turnstone
At TURNSTONE,
We believe space and culture are game-changing ingredients for companies young and old, large and small. That's why we're focused on helping entrepreneurs leverage their culture and their space to accelerate business results, and on helping intrapreneurs activate a sense of startup culture to do the same.
visit turnstone
DesignTex
visit designtex
Designtex is the leading company in the design and manufacturing of applied materials for the built environment.
A recognized innovator, we are known for our rigorous and dedicated approach to research and development of textiles and wallcoverings with reduced environmental impact. Our ongoing efforts toward greater sustainability inform every product in our catalog. By sharing our insights through open patents and leadership within standard-setting industry organizations we aim to benefit the industry as a whole.
We offer an evolving catalog of over 8,000 materials. They are specified by designers for corporations, government and private institutions, education, retail, hospitality and healthcare environments, as well as entertainment and sporting arenas in the United States and around the world.
visit designtex
Microsoft and Steelcase Partnership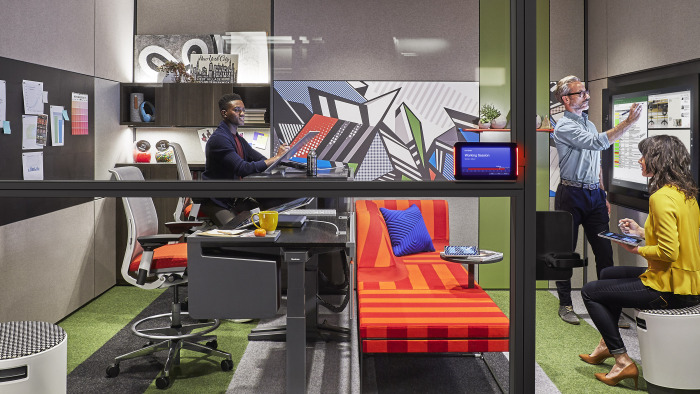 THE FUTURE NEEDS CREATIVE THINKERS
Steelcase and Microsoft share a passion for helping people at work. Together, we understand how the integration of place and technology can unlock creativity.

Our Vendors + Manufacturing Partners
FURNITURE
9 to 5 Seating
Abco
Allseating
Arcadia Chair
Bernhardt
Cabot Wrenn
Carolina Champion
Claridge
Clear Design
Community (Jasper Group)
Cumberland
Dar/Ran Furniture Industries
David Edward
Davis
Durkan
Egan Visual
Falcon
Fire King
First Office
Flexsteel Industires
Friant
Gar
Global Industries Inc.
Grand Rapids Chair
Great Openings
Gressco
Gunlocke H Contract
Highmark
IMG
Ideon
Indiana Desk
Integra
Intensa ISE
Jasper Group Brands (JSI)
KI
Kimball Office Furniture
Krug
La-Z-Boy (Knu LLC)
Leland International
Lesro
Loewenstein Inc.
Magnusen Group
Mayline Company Inc.
MITCHELL GOLD+BOB WILLIAMS CONTRACT
MityLite
National Office Furniture
Nevers
Nevins
Nightengale Inc.
Nucraft Furniture Co
OFGO (DSI Industries)
OFM
OFS
Paul Brayton Designs
Peter Pepper
Safco
Sit On It Seating Inc.
Spec
Stance Healthcare
Timothy
Tuohy
Versteel
Wieland
WorkRite Ergonomics
FLOORING
Bigelow
Interface/FLOR
Mannington
Masland
Milliken
Mohawk
Patcraft
Six Degrees Flooring
Tandus
Tarkett / Johsonite
TECHNOLOGY
CCS Southeast
MICROSOFT
POLYVISION
LIGHTING
Textiles + Wallcovering
ArcCom
Architex
Carnegie
DESIGNTEX
Eykon
Maharam
Mayer
MDC
Momentum
National Wallcovering
Pallas
Patty Madden
Stinson
…and many more!