Watch this short (2:07) Workspace Interiors Promo (Turn Speakers On, Please)
who we are
Love the way you 

work

, 

learn
, and live

.

At workspace interiors, we spend a lot of time thinking about work. We aim to provide high performance products and services designed to help you have a great experience wherever work happens. Our goal is to help you, to make your job easier. Whether you design work spaces, manage them or work in them, we're passionate about helping create spaces your employees love to work in. We pay a lot of attention to how people work—it's where our insights come from. That insight is built into everything we do and create.

You spend far too much time at work to not love being there, and we're going to work very hard at making sure you love working with us.
Workspace Interiors celebrates our 20 year Anniversary!
Meet the newest Steelcase brands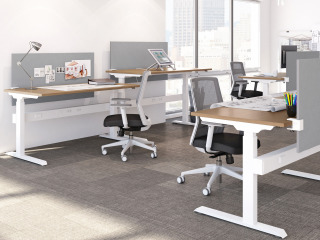 AMQ
AMQ offers flexible furniture solutions that support open plan design ideas and ship in just 5 days.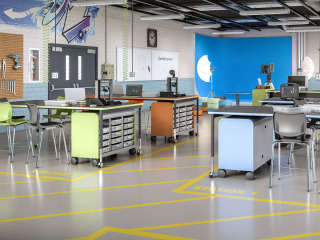 Smith System
Smith System believes in spaces that inspire learning and provides smart, flexible, durable furniture for the unique needs of the K-12 market.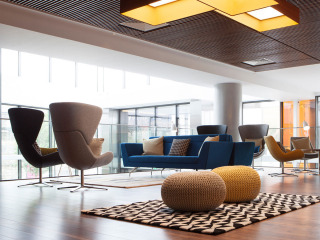 Orangebox
Orangebox offers contemporary furniture for the changing workplace, with a focus on fostering collaboration, privacy and commercial-grade performance.
Featured Products
The Flex Collection
The Steelcase Flex Collection empowers teams to create spaces that can be rearranged on demand, creating environments teams and individuals need to do their best work.
Learn more about the Flex Collection
Steelcase Roam
Co-developed with Microsoft for the Surface Hub 2, the lightweight mobile stand and easy-to-install wall mount of the Steelcase Roam untethers teams from traditionally limited collaborative environments so they can work together how they like: easily, actively and spontaneously.
Learn more about Steelcase Roam